At New Hall we know how important it is for all pupils to be involved in school life and to be listened to.
Our 'Have Your Say' board is an opportunity for the pupils to write about the matters that concern them and those thoughts are noted and actioned accordingly.
To this end we actively encourage participation in a range of additional responsibilities which impact on whole school decisions.
The 'Have Your Say' Board
In September, all Key Stage 1 and 2 pupils take part in a secret ballot at our own polling station in order to elect two representatives per class for the School Council. Once the successful candidates have been announced, they are very busy for the rest of the year!
What the role of a school councillor involves:
Taking great pride in working together to make school an even better place.
Wear school councillor badges so everyone knows who they need to talk about making changes.
Meet at least once a fortnight to discuss topics that will help develop our school and the wider community.
Listen carefully to our peers and record their opinions in our school council books to share at the next meeting.
Share all our decisions with our teachers and classmates.
Try to be excellent role models for the other children.
What do you like about being a councillor?
"We have important meetings and make lots of decisions about our school. For example, we decided on the new school rules!"
"We get to meet children from other school councils too."
"We love organising and hosting our annual New Hall's Got Talent contest."
School Council Members 2021/22
Oluwaseyi – Team Roberts (Year 6)
Jake – Team Thomas (Year 6)
Abbie – Team Dudley (Year 5)
Alice – Team Toomer (Year 5)
Freya – Team Collis (Year 4)
Maryam – Team Durning (Year 4)
Lawson – Team Pain (Year 3)
Alesha – Team Rainbird  (Year 3)
Halle – Team Edwards (Year 2)
Sam – Team Degville (Year 1)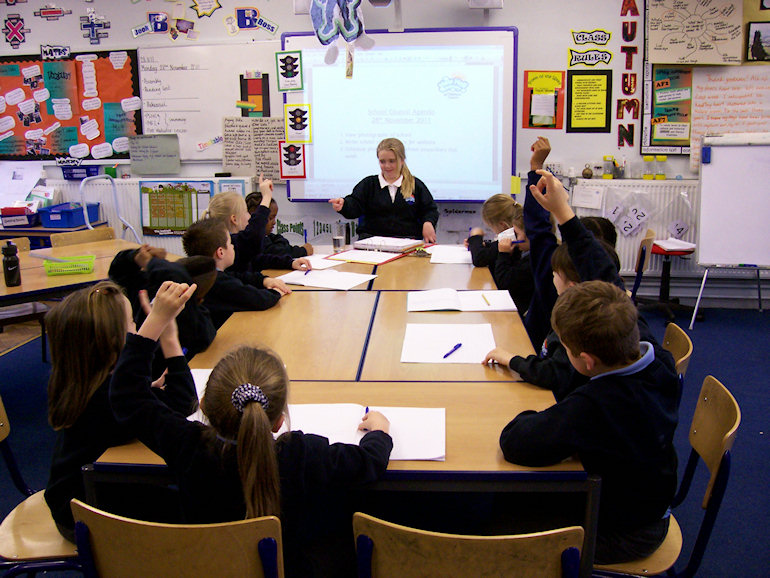 The School Council at one of their meetings.
In 2021/22 our Head Boy is Keion and Head Girl is Kawther. Our deputies are Oliver and Milda.
"Hello, my name is Kawther. I am Head Girl of New Hall Primary. I am hoping people will come to me for advice or if they just need someone to talk to. I am going to do my very best to make this school an inch to perfection."
"Hello, my name is Keion and I am Head Boy of New Hall Primary. My role in the school is to help everybody, show visitors around the school and help teachers during assemblies and much more. I'm ecstatic about my role in the school and has given me a massive confidence boost."
What do you have to do as a Peer Tutor at New Hall?
"We have a younger child and help them to learn a few key words by playing a game. Then they colour in a sheet and we pick new words."
What do you enjoy most about being a Peer Tutor?
"The thing I most enjoyed about being a peer tutor was working with Year 1 children and helping them to learn their words."
"I was very proud of my pupil because she learnt lots of words."
What do pupils gain from Peer Tutoring?
Year 5: "We have responsibility and it helps to improve our relationships."
Year 1: "The children learn how to read their words correctly and have a bit of fun."
What do you have to do as a Peer Mediator at New Hall?
"My job as a Peer Mediator is to help children who have problems with their relationships, etc. I hope to help people have happy times at school."
"Make sure that everyone's happy and not lonely. If they have a problem at dinner time I hope they will come to a Peer Mediator to sort it out."
"My job as a Peer Mediator is to help children if they have a problem and I hope I can make them feel happy."
In 2021/22 our Peer Mediators are:
Jenna
Jack
Remi-Leigh
Jayde
Khiarna
Joelle
Skye
Filip
Layla
Maisey