At New Hall we know how important it is for all pupils to be involved in school life and to be listened to.
To this end we actively encourage participation in a range of additional responsibilities which impact on whole school decisions.
In September, all Key Stage 1 and 2 pupils take part in a secret ballot at our own polling station in order to elect two representatives per class for the School Council. Once the successful candidates have been announced, they are very busy for the rest of the year!
What the role of a school councillor involves:
Taking great pride in working together to make school an even better place.
Wear school councillor badges so everyone knows who they need to talk about making changes.
Meet at least once a fortnight to discuss topics that will help develop our school and the wider community.
Listen carefully to our peers and record their opinions in our school council books to share at the next meeting.
Share all our decisions with our teachers and classmates.
Try to be excellent role models for the other children.
What do you like about being a councillor?
"We have important meetings and make lots of decisions about our school. For example, we decided on the new school rules!"
"We get to meet children from other school councils too."
"We love organising and hosting our annual New Hall's Got Talent contest."
School Council Members 2022/23
Jack – Team Durning (Year 6)
Kayden – Team Thomas (Year 6)
Connor – Team Dudley (Year 5)
Tamara – Team Toomer (Year 5)
Becca – Team Collis (Year 4)
Lola – Team Wood (Year 4)
Aadya – Team Pain (Year 3)
Leah – Team Edwards (Year 2)
Shiloh – Team Daly (Year 1)
Nicole – Team Rainbird (Year 1)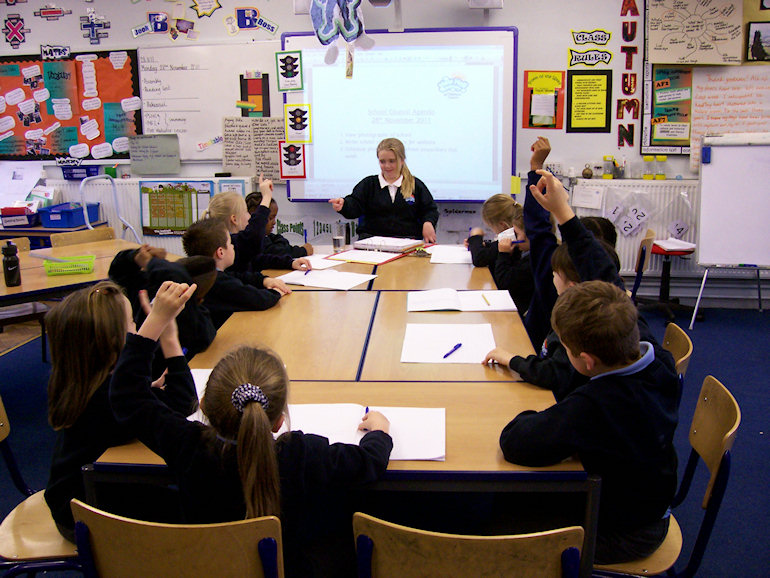 The School Council at one of their meetings.
In 2022/23 our Head Boy is Albert and Head Girl is Khiarna. Our deputies are Shevon and Jenna.
"Hello, my name is Khiarna. I am Head Girl of New Hall Primary. I went for this role to help individuals. This opportunity is one I will thoroughly enjoy. I hope to help the school reach its best and make pupils more comfortable at school."
"Hello, my name is Albert and I am Head Boy for New Hall Primary. My role is to show visitors around school, help set up assemblies and much more. I am jovial that I got the role and will help the school as much as I can to perfect this school."
Our Subject Ambassadors will highlight and give support across the school to their peers and visitors. Here are our Subject Ambassadors:
Maths:
English:
Jayde
Remi Leigh
Bowie
Keilen
Computing:
Tumelo
Kailen
Bruce
Sharon
Prefects and Peer Mediators
What do you have to do as a Prefect at New Hall?
"My job allows me to be involved in important events like decorating the Christmas tree at a local church and selling poppies. The most important part of the role is being a role model to the children at New Hall."
"Being a prefect, I help out in the Den and I set up the games for the children to use. I also like the opportunities to help any children and adults."
What do you have to do as a Peer Mediator at New Hall?
"My job as a Peer Mediator is to help children who have problems with their relationships, etc. I hope to help people have happy times at school."
"Make sure that everyone's happy and not lonely. If they have a problem at dinner time I hope they will come to a Peer Mediator to sort it out."
In 2022/23 our Prefects and Peer Mediators are:
Reed
Te'Morah
Alice
Beau
Vanesa
Tyler
Frankie
Zach
Toby
Brooke
Our Year 5 and 6 Reading Mentors are fully trained in supporting their reading buddies to develop a love of reading.  Enhancing children's reading skills and fluency through a shared, fun system benefits both the Reading Buddy and Mentor.  Reading Mentors spend time reading with their Buddy twice a week choosing books of interest and expanding their exposure to stories and non- fiction texts.
Ellie Mai
Azaan
James
Taylor
Elsie
Nevaeh
Holly
Hailey
Sharon
Albert
Michael John
Layla
Freya
Sienna
Azaan
Emanuella
Karen
Fatima
Tamara
Evie
Kaylah
Joshua
Diva
Ava-Belle
Lola 
Lawson
Eleonora 
Kareemah 
May
Maryam
Frankie
Tulula
Zara
Laila
Tyler
Ben
Alice