At New Hall Primary, we aim to promote each child's right to express their gender and personality in whichever way feels right for them. To support this aim, our uniform policy is gender neutral. This means that, whilst we expect all of our children to wear uniform, the rules for boys and girls are the same and we do not insist that they wear specific items of clothing.
Please ensure that all items of clothing and uniform are clearly labelled with your child's name as we cannot be responsible for items that go missing.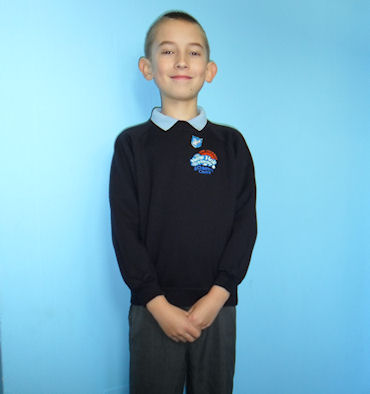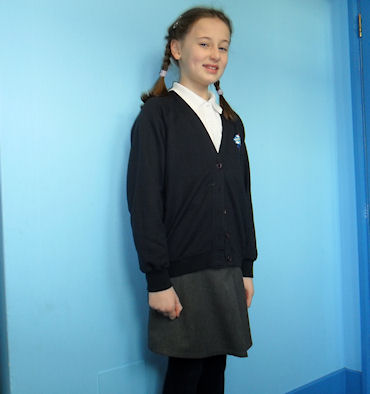 Uniform for Boys and Girls
Grey skirt or trousers (no leggings)
Grey pinafore (optional)
Plain white or pale blue polo t-shirt
White plain shirt (optional)
Navy sweatshirt, with or without logo: v-neck or round neck
Navy cardigan, with or without logo
Blue checked summer dress (optional)
Navy tie (optional), with logo: with white shirt only
Navy, black or grey tights/socks
Navy or black hijab: plain fabric only, not patterned
Shoes need to be fully black, polishable (not fabric) and have no logos (ticks, etc.). NO trainers except for outdoor PE. Girls shoes need to be flat. See examples of footwear below.
PE Kit
White t-shirt, plain
Navy shorts, plain
Black indoor pumps
Black outdoor trainers
Navy PE bag: logo optional
Additional Notes
Hair – No dyed colours. No shaved patterns. Hair that is longer than shoulder length must be tied back with a suitable bobble.
Hair Accessories – Blue or white only.
Jewellery – For health and safety reasons – small stud earrings only. Children must be able to remove these themselves and will be asked to do so for PE lessons.
Make-up – Not allowed.
Nail varnish – Not allowed.
Uniform Suppliers
Generic uniform can be purchased from any local supermarket.
Uniform with our school logo is available from four different suppliers, below. We have chosen these companies to supply our uniform as we feel they can offer quality, value for money and they have different ways for you to purchase.
My Clothing (previously known as F&F at Tesco)
www.myclothing.com
0800 069 9949
For every purchase the school receives a 5% cash donation.
School Trends
www.schooltrends.co.uk
0870 165 0161
Optional Free delivery of your items to school. Approx 7 – 10 days delivery.
Crested Schoolwear
www.crestedschoolwear.co.uk
71 High Street, Erdington, Birmingham, B23 6SA
0121 350 8444
Clive Marks
11-13 Boldmere Road, Sutton Coldfield, B72 1AU
Tel. 0121 382 1728
Your child will not be allowed in school without suitable and appropriate uniform so we advise when ordering from School Trends, My Clothing or Trutex to allow for different delivery times (see websites for details). It may be necessary to purchase temporary uniform in the meantime to enable your child to start New Hall Primary on the agreed date.
Top Tips for School Shoes
Acceptable Shoes
Flat black, leather type school shoes

Unacceptable Shoes
Trainers, or shoes with logos. Heeled shoes. Canvas/high tops in any colour.